I was awoken last week at 3:30 am by a minor earthquake that occurred several hundred miles from my home.
When I woke up, the house was shaking and I momentarily feared that what I was feeling was an earthquake.  
The morning news confirmed my fear and I was suddenly reminded of the importance of having a disaster plan.
When I think of the devastation in Joplin, Missouri after the tornado, the unbelievable destruction of Hurricane Katrina, or the attack of September 11, I become more conscious of the need for emergency preparedness for all organizations.
Organizations both large and small should be prepared for emergencies and have a disaster recovery plan.
Having a plan eliminates the need to think through decisions at a time of confusion and devastation.
Ready.gov is a great resource that helps businesses prepare for and respond to disasters and they offer many tools and resources to help teach organizations how to write a disaster recovery plan.
Organizations should stop and take the time to plan in advance of an emergency so systems are in place to handle any kind of emergency.
The better the emergency plan, the more likely and the quicker an organization will recover from business interruption.
3 Things Organizations Should Think About:
1. Understand the Risks
Organizations should think through all possible disaster scenarios.  
Every type of emergency  – natural disasters to terrorist attacks to an armed intruder should be considered and planned for.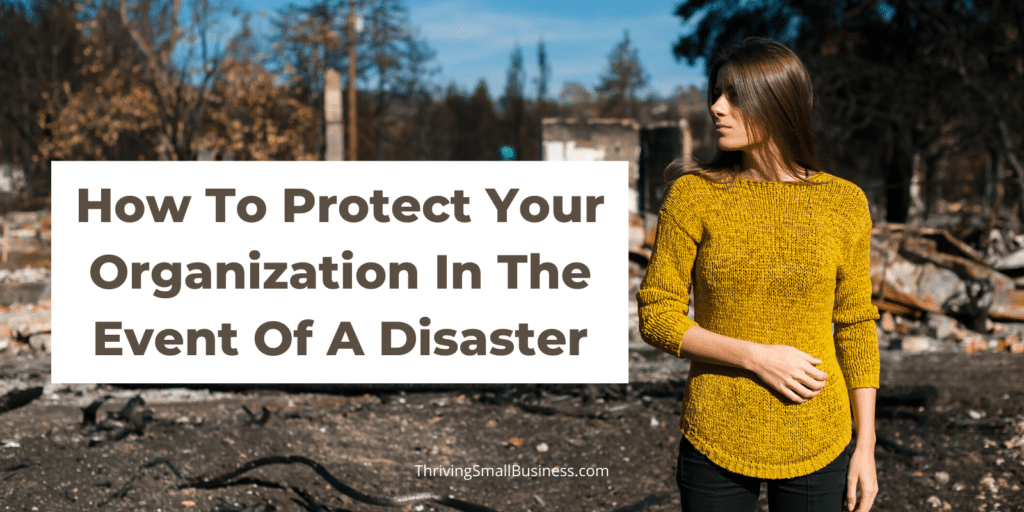 The response to a natural disaster would be very different from an armed intruder but some of the basic elements may be the same.
Understanding all possible risks helps to ensure sufficient planning and preparation is done.
2. Business Recovery
A plan should be developed to ensure business operations can resume as quickly as possible.
This should include a plan to recover computer systems, communication processes, and all necessary business operations.  
Small business disaster recovery is the goal.
3. Recovery Kit
Every organization should have an emergency recovery kit that is housed somewhere away from the business or organization's physical building.  
This kit would contain information that can be used to help jump-start operations.
Things that might be included in the kit are things like copies of insurance policies, phone lists of key employee/vendors, disaster manual, computer programs and back up computer drives.
Emergency management planning is time-intensive and many organizations struggle with carving out the time to plan.  
However, any organization that has been through an emergency or crisis would attest that the time spent on the front end is well worth the order that comes from having a well written, documented plan that merely needs to be executed.
Have you put together your emergency management and disaster recovery plan?